Hosted by
"Christine's Home and Travel Adventures"
Today, we're going to again explore what makes Carrollton, Texas special.
Did you know that Barney is produced in Carrollton, Texas?
That's where Disney stars Selena Gomez and Demi Lovato
got their start as 7 year old extras on the show.
From the Associated Press:
Sept. 19, 2006
A beehive of activityThe program is produced in the Dallas suburb of Carrollton, inside an unadorned red brick building that bears no hint of the beehive of activity within.
Inside, carpenters hammer away on set designs, elaborate props are constructed, voices and sounds are recorded and dance routines are rehearsed. The child actors who perform with Barney even have their own classroom and teacher.
Barney really is two people, as are each of his dinosaur sidekicks.
Aside from Barney, we also have...
Elm Fork Nature Preserve
This is the Amphitheater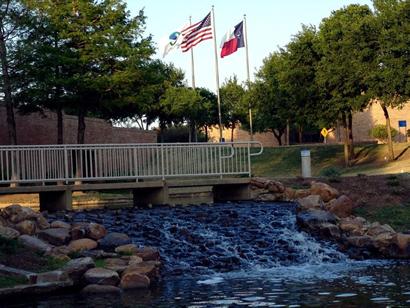 Look at this Carrollton Police Department grounds?

Next Saturday, come join me and Christine for Sightseeing Saturday
and show us what's great about your city
or the places you've seen!

***********************************************************
Now onto something pink and pretty!
Hosted by
"How Sweet The Sound"

A Pfaltzgraff Pattern


This pretty, graceful pattern is rich in intricate textures and lavish details, from the fluted exteriors to the scalloped rims, all rendered in tones of pink and cream. RETIRED as of 8/31/08.

(From Pfaltzgraff.com)
If you have this pattern, I have one thing to say to you...

You are...

one...

lucky duck!

I'm not into pink dinnerware much, but I found myself looking at this pattern a lot when I visit Pfaltzgraff online.
Thank you, Beverly and Christine for hosting another great one!
HAPPY PINK SATURDAY TO ALL!
My blog buddy, Lynn of
"Lynn's Kitchen"
has a great recipe for Apple Crisp! Come see her and the yummy recipe. If you haven't yet yesterday, I mean! LOL I will so do it and show you all soon!
TABLESCAPING IDEA:
("Brain is just tickled pink about this idea!)
Create a zen table using pink from the tablecloth to the candles. Meaning use the same shade of pink throughout and do a simple pink short orchid stem centerpiece in a clear glass. Use soft pink votives or tea lights in clear containers. By having a monotone table, it looks peaceful and serene, giving a zen feel to your evening. For the menu, plan a menu that's quiet to eat- creamy potato soup, marinated steak already cut in strips, brown rice pilaf or risotto and cheesecake bites. This is a perfect table to create when the whole family is stressed out over something like tests or a big move or not so good report cards. It will be an inexpensive and delicious therapy for everyone...