Well, since I'm quite homebound half a week with my hubs having the car for work, my mind again wanders to far away places. Lately, I've been seeing hints of Morocco everywhere. My lantern from the past TT, boxes of couscous and etc, etc...
You all know I've not been to most of anywhere so I have no words to describe Morocco rather than what a beautiful place. Mysterious, exotic, and oh so... pink?
(From Flickr dot com)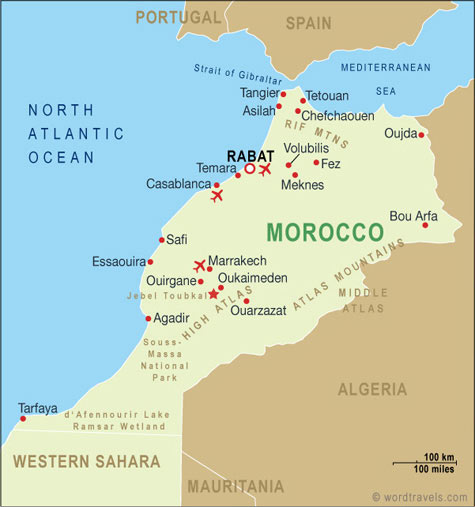 A map from WorldTravels dot com
Sahara desert
The vast sand dunes and great hotels
A purple night life... (I'd go just for that!)
The landscape...
I thank both of our gracious hosts, Christine for always taking the time to share her travels with us and to Beverly for her weekly dose of pink sunshine showers for us!
TABLESCAPING IDEA: ("Brain" is feeling exotic) Ok this is obvious, if you love Moroccan food, why not create a whole table in honor of the wonderful menu?